#SAVELUNCHBREAK
You. Yeah, you aka the person looking at this website right now. You're probably reading this within arm's length of a really sad tupperware lunch consisting of last night's leftovers because you were so busy trying to "Fill that copywriter role, ASAP!" that you didn't have time to get OOO and eat a proper lunch. This sad phenomenon known as "desk lunch" is unfortunately becoming the norm, so to fight back (and hopefully inspire young professionals to eat lunch somewhere other than their desk) the #SaveLunchBreak movement was born.
#SaveLunchBreak was Subway's first ever, full-on social campaign, consisting of Tony Hale-starring PSA videos, Snapchat plays, influencer swag, animated OLV, and much more. We were also one of the first QSR (quick serve restaurants aka fast food) to have a branded Twitter emoji.

AD: Tara Iannotti
CW: Alex Basak
#SAVELUNCHBREAK : INFLUENCER POSTERS & SWAG
#SAVELUNCHBREAK SNAPCHAT: LUNCH DATES
Coinciding with our launch on National Sandwich Day 2015 was a "Buy 1 Give 1" sandwich promo, so we created a Snapstory with a few suggestions of who you could share your sub with and #SaveLunchBreak.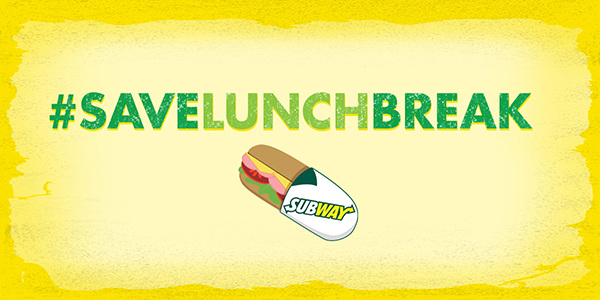 Tweeting with #SaveLunchBreak would add Subway's custom sub-moji to that very important thing you're about to post.
#SAVELUNCHBREAK with TONY HALE
To amplify our reach, we worked with Tony Hale to create a series of PSA-style videos to #SaveLunchBreak. These videos were produced by Tony Hale and his team.